Top Apps in the U.S. for November 2019 by Download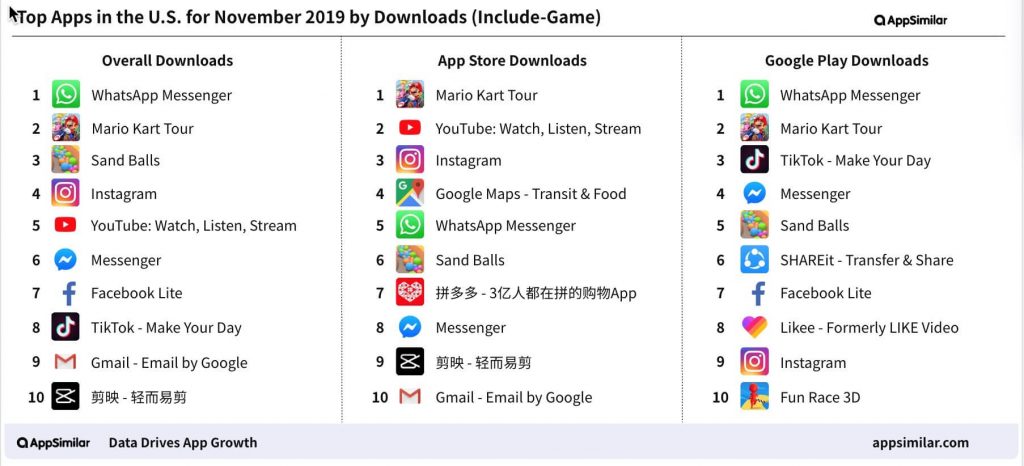 WhatsApp ranked first in overall downloads and google play downloads in November. WhatsApp is a very popular cross-platform application for communication between smartphones. With the help of a push notification service, this application can instantly receive information sent by relatives, friends, and colleagues. You can switch from sending text messages to using WhatsApp for free to send and receive messages, pictures, audio files, and video messages.
WhatsApp is registered based on a mobile phone number. When registering, you are required to enter your mobile phone number and accept a verification text message. Then WhatsApp will search for people already in your mobile phone contacts and automatically add them to your mobile phone contacts.
AS app Mario, Since its launch, has performed well. It was the second-largest app in the United States last month, with more than 4 million installs, a 12% increase from November 2018. Sand Balls, Instagram and YouTube are in the top five. Mario's popularity In addition to the well-made game itself, this classic character has also found a lot of childhood memories for players who like it early.
In addition to Mario, Sand Balls also entered the top ten in the game and ranked sixth in the App Store and fifth in Google Play. Sand Balls is an easy-to-use casual game that creates a path for your ball by moving your fingers. Avoid and bump obstacles. It is very suitable for office workers and students to relax under stress.
AppSimilar users can not only view app download estimates for different time periods, but also app revenue, the number of active users, and ratings. Our estimates include downloads from the App Store and Google Play in the United States from October 1, 2018, to October 31, 2019. Excludes Apple apps and Google pre-installed apps. We report only unique installations. Android is estimated not to include third-party stores. Numbers represent the total installs for all application versions, such as Facebook and Facebook Lite.