Global Integration For Mobile Apps during COVID-19
Crafting a marketing strategy is an art of knowing and understanding all aspects of the product. A good strategy maker not only considers the features of the products but also of the market. Some apps show high popularity in only certain regions of the world. Their prevalence varies from region to region, rather than being uniform all over the globe. Thus understanding global integration is as important as researching for the local criteria, provided the app is not meant for a particular region only.
An app that dominates in a particular area, like WeChat in Asia, for instance, might barely get a good number of downloads in some other parts of the world, like Canada, for example. The reason, as in the case of WeChat, is pretty apparent—it was developed to cater to the local market's needs precisely. However, it later expanded into other foreign markets as well. Thus, we can say that it all depends upon the intent of development and marketing.
Short Video Apps Getting Popular Globally
If you want your app to be famous all over the globe, you need to understand the global trends of the industry. Who is not aware of the acclaimed short videos platform TikTok. This application is one of the most downloaded apps globally, which completed its one billion mark by February 2019. However, it didn't stop there. In the next few months, it reached another half a billion downloads, and the numbers are still counting. The company went through a lot of rebrandings and changes in strategy to strengthen its position in the global market. Here is a screenshot of TikTok's popularity in the US. We used the famous app analysis and app store optimization tool AppSimilar for this.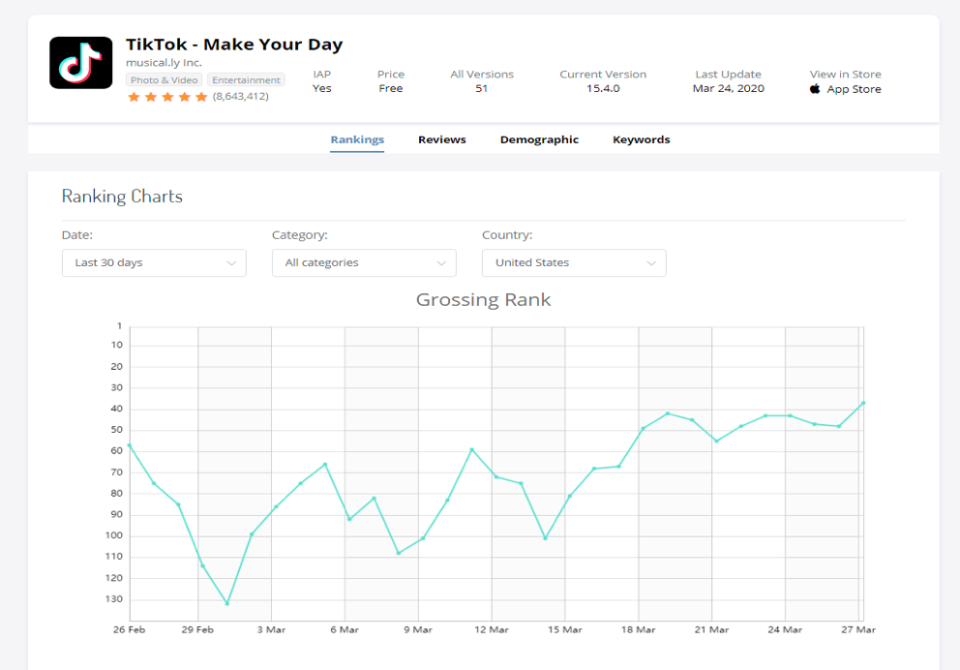 From the ranking chart, you can easily assess how this app is getting popular and improving its position in the Appstore.
Similarly, Instagram's short videos are also making a trend of the globe. Other notable short video applications include Dubsmash, LIKE, and Vigo Video.
Global Trend of Casual Games is Worth Mentioning
If we talk about the games, the casual games with simple controls, catchy interface, and smoother user experience are the ones that get most popular around the globe. One of the best examples is Candy Crush Saga by King. The casual puzzle game is easy yet exciting and keeps an incentive with every new level, which helped it reach a massive number of downloads globally. Here is a screenshot of the ranking chart of Candy Crush Saga from the tool AppSimilar. The image clearly shows that the app is maintaining its current position in the United States. If you want to explore more, we suggest you to visit AppSimilar. It's free!
Thus we can say that if we think about global integration, we need to consider the interests of the worldwide audience as in the present case of the above mentioned scenarios. Understanding the needs of the audienceis very important for a marketing strategy. For this purpose, the developers and marketers keep on improving the apps functionalities and marketing strategies to cope with the needs of their users. In some cases, app developers have to create different versions of the apps to facilitate their users in different regions or countries, which is not a much profitable business model.
Another trend that is very apparent in today's mobile application and gaming industry is that even though the same advertisement strategy is used, different regions show a different level of growth. For instance, the Anime, Comics, and Game applications that are popular in the United Kingdom are not that popular in the United States, although both are English speaking countries.
Similarly, the analysis of trends in Southeast Asia shows that role-playing games are gaining popularity in that region. Apart from this, East Asia has also shown a rapid number of downloads in comparison to other parts of the globe.
How To Make Your App More Visible In App-Store Searches
Let's talk about some of the ways by which you can improve your digital marketing strategy. You can see from all the screenshots in this article that we have used a robust analytics and ASO tool AppSimilar. With app similar, you can search for thousands of applications that are similar to your app. You can see their detailed analytics, their ranking charts, ranking factors, details of demographics, country wise rankings, reviews, and the keywords that people are searching to find them in the app stores. Above all, this detail is available for different regions too. These statistics will help you in understanding the audience better and in learning the mistakes of your competitors. You can quickly analyze these factors by tracking any competitor application.
Keywords Research For ASO:
An essential part of ASO is keywords research. Different tools are available online that can research keywords based upon your typed queries. When you first generate keywords using any commercial tool, the biggest problem that hits you is the selection of the right keywords to add to your application's details. For this purpose, you need a tool that can not only find the right keywords but can also help you in tracking them from your competitors.
Don't Overoptimize, Be Creative:
AppSimilar has builtin features not only for finding the keywords of competitors but also for fetching them according to your given queries. All you need is to extract all the related keywords using the tool and then select only the ones that will work best with your application. However, it is always recommended not to over-optimize or stuff the keywords. This can result in your application marked as spammy. Add keywords creatively in your description, title, subtitle, and anywhere according to the requirements of the app store you are using.
Thus we can sum this all by concluding that if you're looking for a global launch, you should follow the trends of the globe. You need to understand what worked for other competitors and how you can create something creative that can serve the worldwide audience. We highly recommend having a thorough research before the launch. If you have any queries, please don't hesitate to ask in the comments section.