The No1 Mobile App Analytics Tools
According to official agency statistics, the number of smartphone users worldwide has reached 2.7 billion, and the number of App applications has reached 4 million. Obviously, the operation promotion of the App is getting more and more intense.
For a mobile application to succeed in the market, there are two determinants. One is that developers need to develop the application. If the developer develops the App prototype, this is only half successful; the second is the market. Promotion needs to start to optimize the application and start to detect the user behavior of the App application.
How To Increase App Downloads
In order to increase the probability of success of an application, application developers must maintain a high degree of acumen and insight. Publishers who want to increase App downloads usually consider three methods:
The first method is to improve the ranking of the App in the store by optimizing the App Store and let as many users as possible see your APP so that users can download your app.
The second method is to provide a good mobile application user experience in the App application, improve user retention, and promote user activity. By updating the iterative App version, gain more user approval, and let users introduce their friends to use your App.
The third method is to directly spend money to acquire your users through advertising.
Mobile App Analytics Tools
However, everything you do is uncertain, you may ask: How do I know that the promotion and optimization plan I made is correct? Then you can search for "mobile app analytics tools…" in Google at this time, and learn the successful operation experience of competitors through App analysis tools. He can save you a lot of time and cost.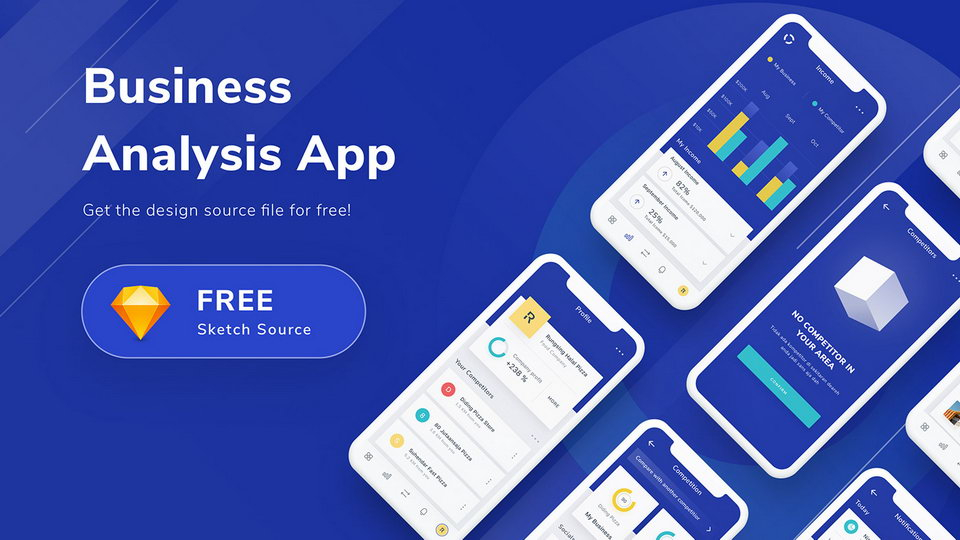 What is App Analytics Tool
First of all, let us be familiar with the concept, what exactly is the mobile phone App analysis tool? Mobile app analysis is the best eye for marketers. He can help mobile developers monitor the performance of App apps, help you get your mobile users' behavior data, gain insight into your competitor's App ASO strategy, and help you develop more Multiple long-tail keywords make it easier for you to optimize your application and make promotion plans.
However, sometimes you want a suitable mobile application analysis tool, you can ask a friend, or go to Google search, or read some recommended articles, and so on. It will be a very tiring process. Here, I will directly provide you with a mobile app analysis tool for your reference.
What can AppSimilar help us
The application analysis tool for this mobile App that I will introduce is AppSimilar. So, what can AppSimilar help us do? I think it can help us solve the following problems:
You can view any App you want to know directly on AppSimilar without going to Google Store or Apple Store to check the basic information of the App.
Insight into the changes in the rankings of competitors' apps in the app store, and learn from each other's operating strategies.
Through audience analysis of competitive products, find accurate audience users.
Expand potential long-tail keywords to increase the visibility of your app in the app store.
Analyze the keyword design of competitors and grab the keywords of traffic.
Next, let's get to know AppSimilar:
AppSimilar is a completely free mobile phone application analysis tool. It is based on the analysis of the huge market App cloud data, which guides App marketers on how to analyze user behavior. In addition, its biggest feature is to help you monitor the information of other App applications, such as DUA, Rating, Reviews, Facebook, Version, Released and other information, monitor the behavior of competing products, optimize your promotion strategy, because others can do To be more successful, you must have the experience to learn from.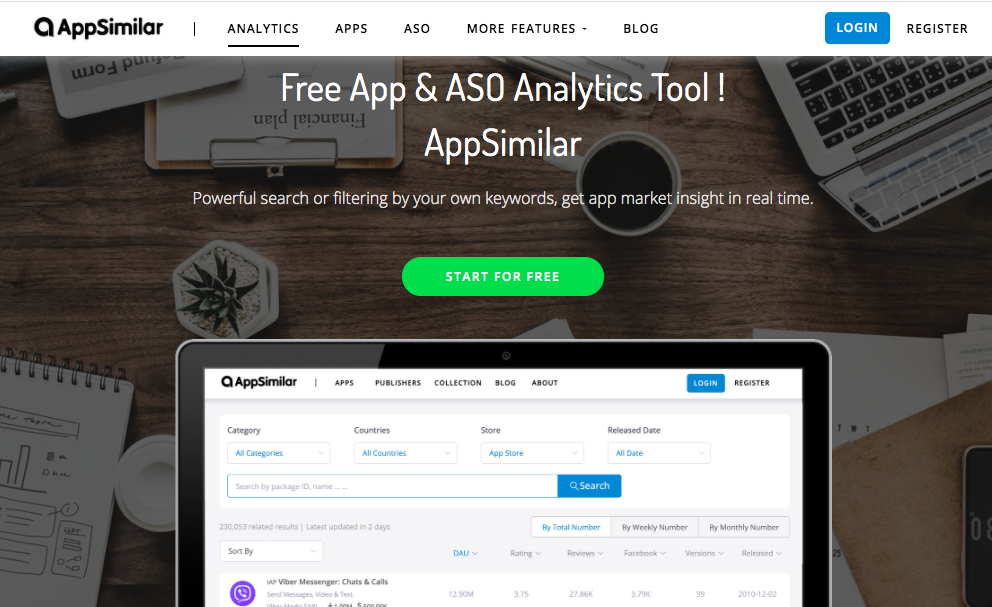 The main functions of AppSimilar are divided into six directions, App market data statistics, App ASO intelligence analysis, publisher data analysis, ASO keyword expansion, App collection function, and blog resources. Six functions for each function, I simply Give an introduction to facilitating everyone to understand the experience product.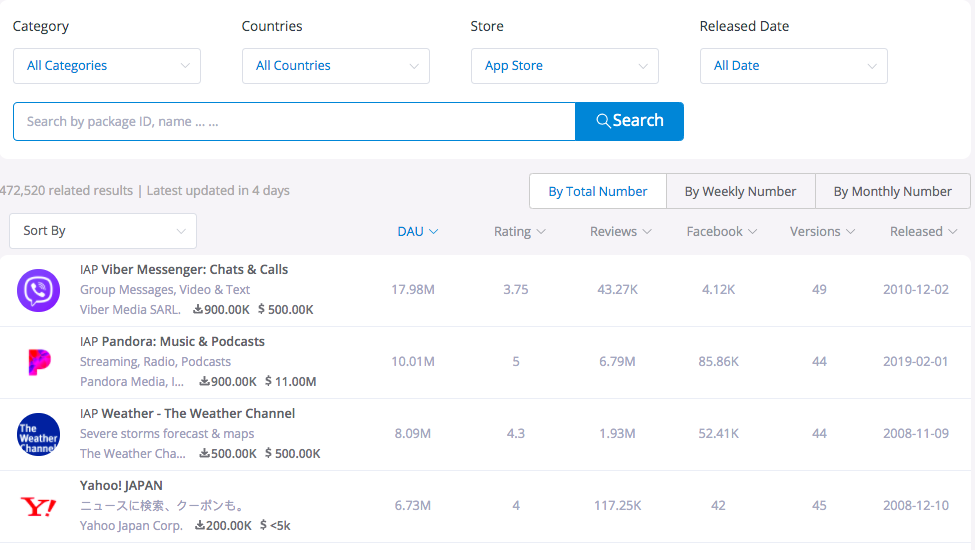 This feature is very popular with app promoters. He has a huge application database and currently has more than one million App data; if you need to view specific applications, you can use advanced filtering functions, through category, countries, store, Four dimensions of released date, find the App application you want to see, currently, you can see the App application data-name, downloads, revenue, DUA, rating, reviews, version, Facebook, released and other data information, More data content information is still under continuous development.
2.App's ASO intelligence analysis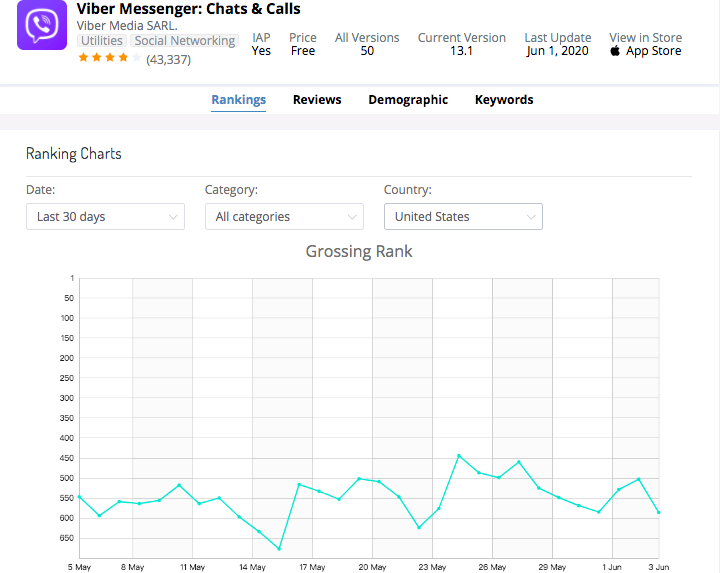 This function is very powerful. It collects the ASO data intelligence of the App in the app store. For example, the App's ranking changes in the app store in unit time; App audience user analysis is mostly male or female users; App Changes in keywords, showing the traffic and difficulty of keywords; in addition, there are App reviews statistics.
3.Publishers data analysis
For many ASOers, sometimes it is necessary to directly view the App application data of the head publisher, and combined with their data, they can grasp the industry trends in a timely manner, and optimize and adjust their own App applications. At present, the publisher's data information content includes the following aspects: publisher name, total downloads, revenue, publisher's number of apps, DUA, Rating, reviews, and other dimension data information, and can be sorted by custom, for example, by Total Number, by Weekly Number, by Monthly Number. If you need to filter to narrow the data range, you can also filter through the advanced filter function.
4.ASO keyword development
After you do a good work of researching competitive products, you have found some core keywords, but you don't know how to expand more long-tailed words. This function can be said to be the most favorite function for me. Your core keywords, it will list more keywords related to this core word, then you only need to compare and analyze, decide which words you still have the opportunity to optimize your App, improve in the app store Ranking.
5.App collection function
There is a lot of App data. If you want to continue to pay attention to a certain App or publisher, you can follow through the collection. In the following favorites, you can continue to follow the data of the App application.
Finally, to sum up, a good App analysis tool can make you do more with less, help you see the development trend in the industry, predict the direction of development in advance, ok, share AppSimilar, hope to help you master the industry dynamics.