ASO: Monitoring Google Play Or AppStore Rank For Your Mobile App
With the development of mobile Apps, people use mobile phones to play games, chat with friends, and download fun apps every day. Mobile phones have become the center of your life, and a lot of your work and lifetime are on mobile phones. According to the official mobile phone report, the average global use of mobile phones is 5.1 hours. Each phone downloads 33 different apps. Perhaps your app is one of them. If you can improve the ranking of apps in the app store.
The full name of ASO is called App Store Optimization. You can simply understand that it is the SEO of App in Google Store or Apple Store. The purpose is to improve the ranking of App Apps in the store. If the user searches for the corresponding keywords and your app can be at the top of the store, then your app is half successful.
Up to now, the number of apps in all app stores around the world has reached 5 million, and this number is still growing rapidly. App stores have become an important scenario for mobile phone users. At the top of the store, guide users to download applications. This process requires ASO, which helps you achieve rapid user growth.
How do you optimize your App?
There is a big difference between ASO and SEO. SEO is mainly used for ranking optimization of PC-end products. There are many and complicated optimization aspects, and there are many affected external poppies. ASO optimization is relatively fixed, but it can still help you get Potential users of the app, direct them to download your app and use it.
App Title is very important
The title of the app can tell your users what it is, and help them understand what your product can do. The most important thing is to tell the app store how to classify and index it. Please make sure that the keyword search volume in the title is the largest. This keyword query tool can help you make a good choice of keywords. Please keep in mind that you can change the keywords in the title at will, but changing the keywords frequently will cause your app not to be trusted by the app store. Be sure to compare and analyze multiple keywords before determining the keywords. Possible one-time determination.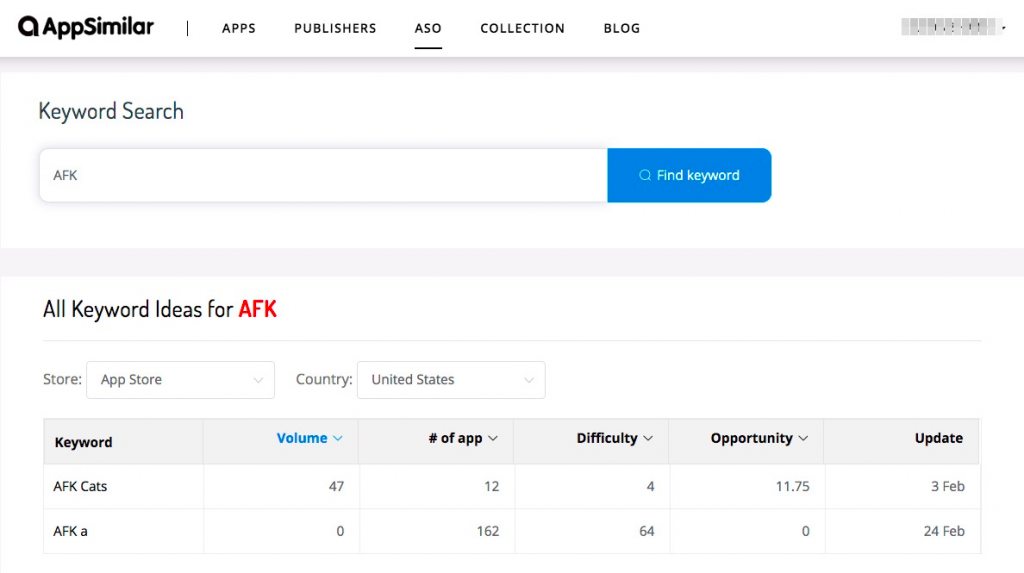 If you are a user, what keywords would you search in the app store? It must be based on a thorough understanding of the user, in addition to the tool to screen competitive products with good search volume, but poor ranking keywords as candidates. Only then can you find your users faster.
Ratings and Reviews analysis
The reviews and ratings used in the app store affect the app 's ranking in the app store, especially negative and low scores. Once the app store detects that your credit score is below its standard, the app store will warn publishers to App, carry out rectification, such a situation must not occur. Therefore, it is necessary to encourage and guide users to give your app a genuine score. You can remind users who have already downloaded and come back to the store to give a good review.
Before the user is ready to download your App, he or she will click to enter the App landing page. The design of this page is about whether the user decides to download and use it. The main reason is that the design of the landing page is simple and straightforward. What he does is very important.
Track ASO With AppSimilar
By using AppSimilar, you can quickly lock the keywords of competing apps and make reasonable adjustments to your App keywords. AppSimilar provides you with a detailed App report of your interest. If you are closely related to your competitive app, find this app directly on AppSimilar and collect it. AppSimilar will collect ASO data information for you in real time. If this app is already followed, you can directly click on the corresponding app to enter the report page Provides the following detailed reports:
3.App Reviews and Rating Analysis
5.App Keywords Analysis in App Store
Start Your ASO With AppSimilar
If you do n't know how to optimize your app 's ranking in the Google Store and Apple Store, try it with a tool to monitor and analyze how your competing apps are optimized for app store ranking. This will be your successful start!