Facebook Ads Case Study: Driving Your App To Global Success
Facebook Ads Case Study: Driving Your App To Global Success
Bigo Live: How App Maker Grew Installs With Facebook Ads
Driving your app to global success is not an easy task. So when your app manages to acquire over 250 million users, that is an unusual success. This is the enviable position of Chinese mobile internet company Bigo whose Bigo Live app has become a powerhouse in live streaming. Just like many smaller app publishers, however, Bigo Live found itself stuck.
The app was having trouble acquiring new users. Ad costs were rising, and things looked bleak if Bigo Live was to continue growing at a rapid clip. Fortunately, the company ran a series of Facebook ad frequency and reach media buys which turned things around.
Below, we go into Bigo Live's problems and the strategy they used, which you can also use, to unlock growth in app installs.
The New Challenge For App Publishers
Bigo Live's app has seen massive success not just in China, but right across the world. The app has amassed hundreds of millions of users in some 191 countries. Bigo Live is a success at generating massive amounts of attention, which has become a virtual currency of its own in today's digital ecosystem. Future success in this space, however, cannot be taken for granted.
The app's role as a streaming platform places it squarely in the same competitive segment with some giants of digital media. It has the following among its strategic competitors:
Daily Motion
Periscope
Youtube
Vimeo
Youtube alone, for comparison, has over 2 billion users worldwide. In order to make headway in this super competitive space, Bigo Live needs to have a seamless user acquisition system in place. This is not so easy to do given competing app publishers all bidding for the same attention on Facebook Ads.
In markets with a lot of players, specifically India and Indonesia, Bigo Live was faced with rising ad costs. The company had to keep upping its spend in order to still have a shot at acquiring new users.
In reality, these problems are not unique to Bigo Live. App publishers from all kinds of verticals these days are facing higher app marketing costs. It's harder than ever to acquire new app users, and users themselves are reluctant to try new apps.
A Better Way To Get New App Installs
Just about any app publisher can learn from how Bigo Live used Facebook Ads in a novel way to solve its user acquisition challenges. All in all, if you aim to quickly gain potential user acquisition, using Facebook Ads and Instagram Ads is your need.
Though costs are now rising on social media advertising platforms, they still offer an attractive return on investment (ROI), with some of the cheapest cost per click (CPC) in digital advertising.
Bigo Live, however, went beyond a basic Facebook Ads campaign and used Facebook's ground-breaking Test And Learn feature. This is an ad testing feature that lets you run scientific experiments easily. Facebook Test And Learn comes with templates to help you measure the results of your advertising and identify potential improvements.
Using Test And Learn, Bigo Live came up with a new approach that would reach new audiences while lowering the cost per install. This approach used Facebook reach and frequency ad targeting, with exclusion custom audiences enabling Bigo Live to reach new audiences.
AppSimilar Gives You App Intelligence To Grow Faster
The challenges faced by Bigo Live highlight the competitive pressures in the app market place. The crunch many app publishers face is due to the fact that the growth in mobile ad spend is now outpacing the corresponding growth in smartphone adoption.
This creates a situation in which ever more apps, and more publishers, are competing for the same eyeballs on mobile phones, making installs much harder to get. Not only so, but the costs publishers must pay are rising as well.
To help you get an advantage over the competition, you can use an app intelligence platform to optimize your own app's performance. We recommend AppSimilar for this purpose. This app analytics platform will show you how your competitors' apps are performing, allowing you to spot opportunities for the growth of your own app.
As an example, we searched Bigo Live on AppSimilar, and the analytics platform returned a slew of critical performance data for Bigo Live.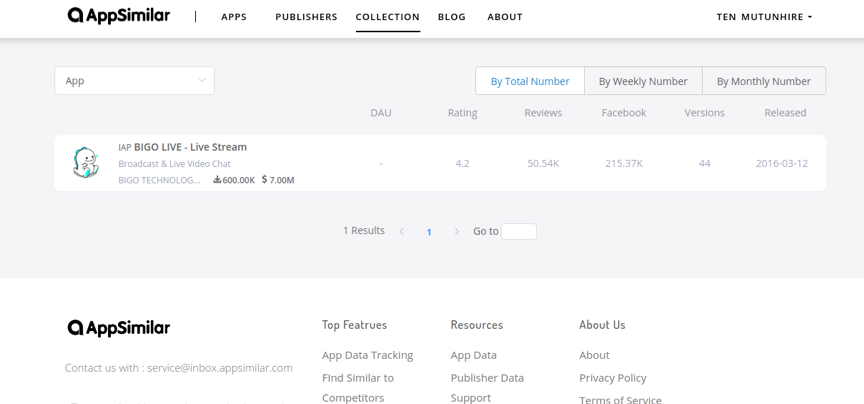 AppSimilar will show you these important data points:
Downloads in last month
Estimated app revenue from in-app purchases
Number of Daily Active Users (DAU)
Average rating of the app across all active regions
Facebook metrics for the app: shares, likes, and comments
Version count – number of versions that have been released
Original release date of the app
These metrics help you to make better strategic decisions for your app, based on an accurate picture of where your competition stands.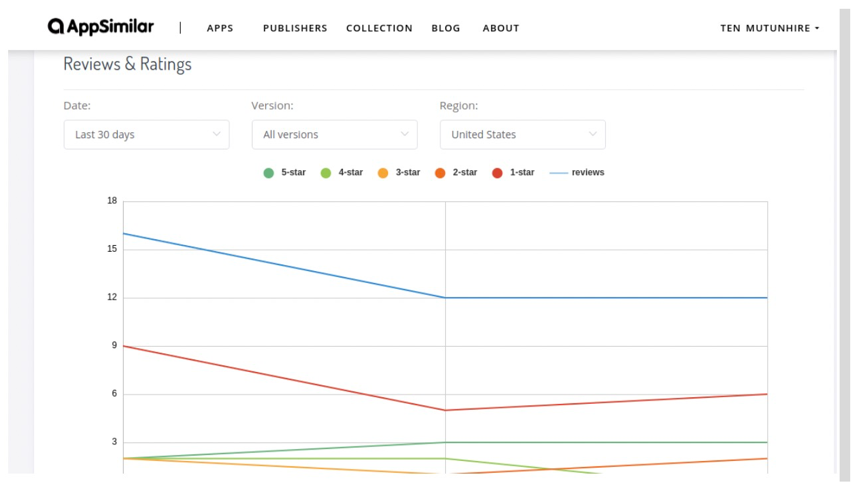 As the race to top the app stores and acquire users heats up, AppSimilar can be a huge advantage for an app publisher looking to be competitive.
Critical Factors For App Install Growth
In order to see robust user acquisition for your app, you need to optimize all the critical factors for app install growth. The first set of significant factors you can optimize are those having to do with App Store Optimization. These include:
App name
Localized product page
Installs per keyword
Ratings
You also need to finely optimize conversion rate factors that determine whether users who see your app in the rankings click through and install the app. The most important of these factors include:
Icon
Screenshots
Ratings
User reviews
The importance of user reviews means that it's not enough to help drive the app rankings using keywords alone. Unless the actual experience of using your app is satisfying for customers, they will leave bad reviews and conversion rates will suffer. This will seriously impede the growth of your app. You also need to pay attention to other important app metrics such as Retention Rate and Average Revenue Per User (ARPU).
Results From Bigo Live's Facebook Ads Campaign
With its different set of tactics for Facebook Ads and user acquisition, Bigo Live managed to getsome outstanding results. Thanks largely to Facebook reach and frequency media buying, combined with custom audiences, user acquisition for the Chinese mobile internet company became much more efficient.
The app attained a 33% decrease in cost per install while the day-2 Retention Rate went up by 37%. Most important of all, Bigo Live achieved its objective of lowering user acquisition costs while reaching new audiences.