[NEW]Competitors' App: See Unusual App Ranking Changes By AppStore Keyword Monitoring
[Updated in March 2020] We have updated some features of the App Store Keyword Monitoring to facilitate you to quickly see changes in your competitor App and your own App keyword rankings and provide better suggestions. You can easily determine which keywords are most affected and guess the marketing strategy behind your competitors.
I believe you also know how difficult it is to optimize the ASO of the App. You may sometimes feel very low. When you know that the competitors have released a new version of the App in the App Store, you must wait for the monitoring How submitted keywords affect app ranking changes.
If you have any of the above questions, don't worry, I will introduce you to such a key AppStore monitoring tool, you can collect a competitor app you follow, and then the system will automatically collect this App on Google Play or AppStore Everything changes here.
Your AppStore keyword monitoring is simple
We all know that keyword key monitoring is a very important step in the ASO optimization process. When your keyword layout strategy is adjusted, your application's ranking may change significantly. The impact is different in the Google App Store and the Apple App Store.
➡️Collect the apps you follow
On AppSimilar, you can directly check the App list of the App Store, whether it is Google Store or Apple Store, the list will show you app market data. If there is an app you care about, please click the favorite button, and the system will automatically collect ASO data information. Basic App Market Data:
App downloads in the app store
App total market revenue
App daily activity
Analysis of app reviews and star ratings in the app store
All interactions on Facebook, including retweets, comments, likes
ASO Ranking
App release information and version information
If this app has been followed by other people, you can bookmark it directly and enter the details page to view the ASO information data immediately.
➡️App Ranking Charts & Regions Summary
After AppSimilar collects data, the change in the ranking of the app in the app store means a change in traffic. If you find that the competitor's app has a low ranking for a certain period of time, what are you still hesitating? Seize the opportunity to layout your keywords and improve your rankings.
The keyword changes in each region will also be different. Affected by the local culture and user's online habits, monitoring keyword changes in the region will help you implement accurate promotion strategies.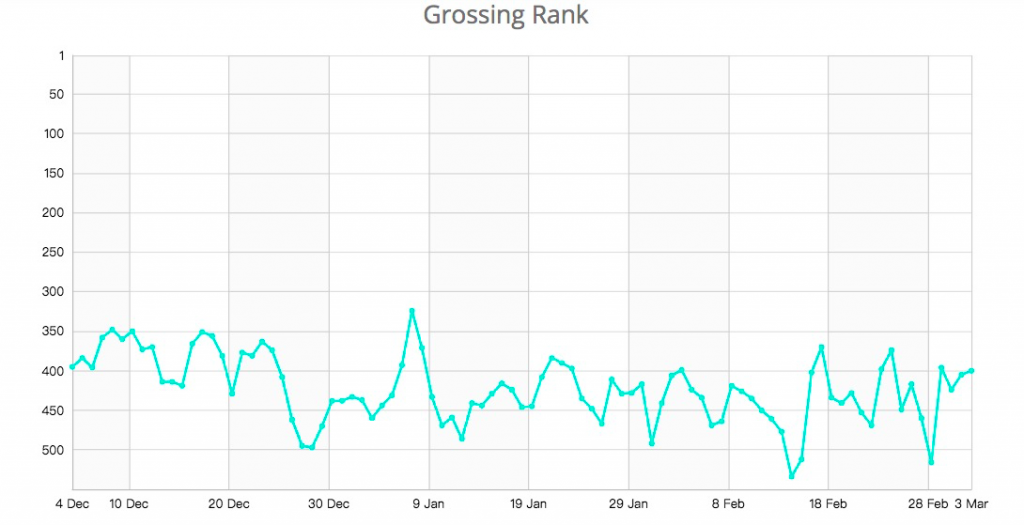 In addition to keywords, app rankings are also affected by Reviews. You may encounter that the ranking of the app has always been good, but in a certain period of time, the app has more comments on the cake, causing the ranking of the app to plummet.
When the competitive app appears in the above situation for a certain period of time, it is recommended that you obtain the requirements criticized by the user in the competing product, make targeted function adjustments for your own app, and get user attention. This will be a good discovery. Place of opportunity.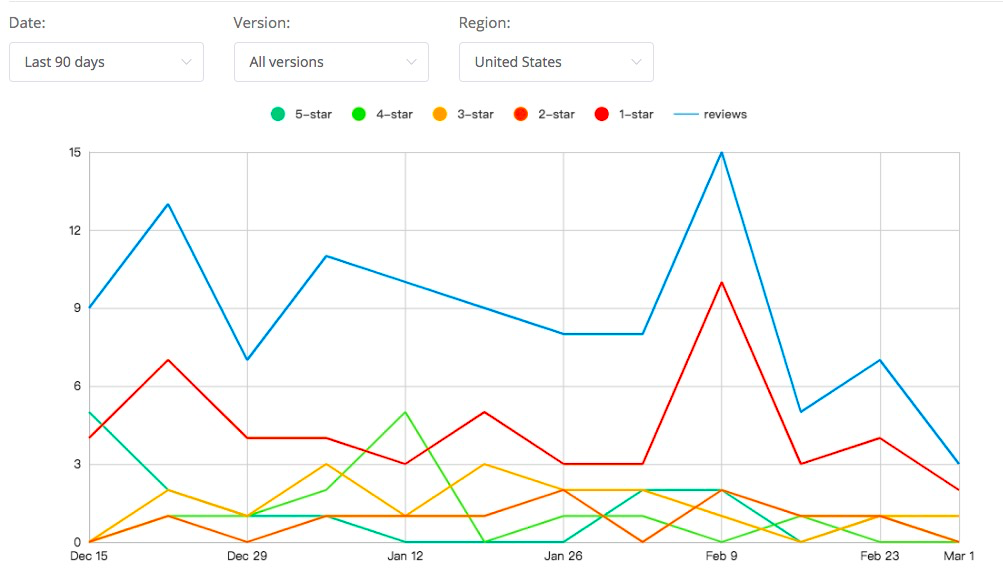 The most direct keyword analysis is undoubtedly the best beacon, which can guide you how to optimize your app.
Understand the keywords in the top 10 search volume of competing products, you can know the number of keywords that competitors have in each traffic range, and gain insight into the key keyword strategies optimized by competing products.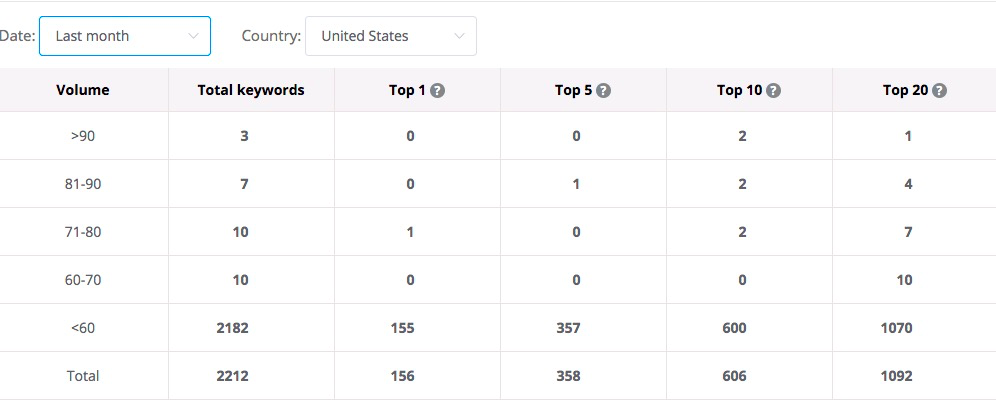 You must want to know what keywords your competitors are optimizing. Through this feature, you will know exactly which keywords your competitors have. They are ranked by keyword traffic, and AppSimilar also gives you a difficulty value And Opportunity, through these two values, helps you determine whether this keyword is suitable for your own App optimization.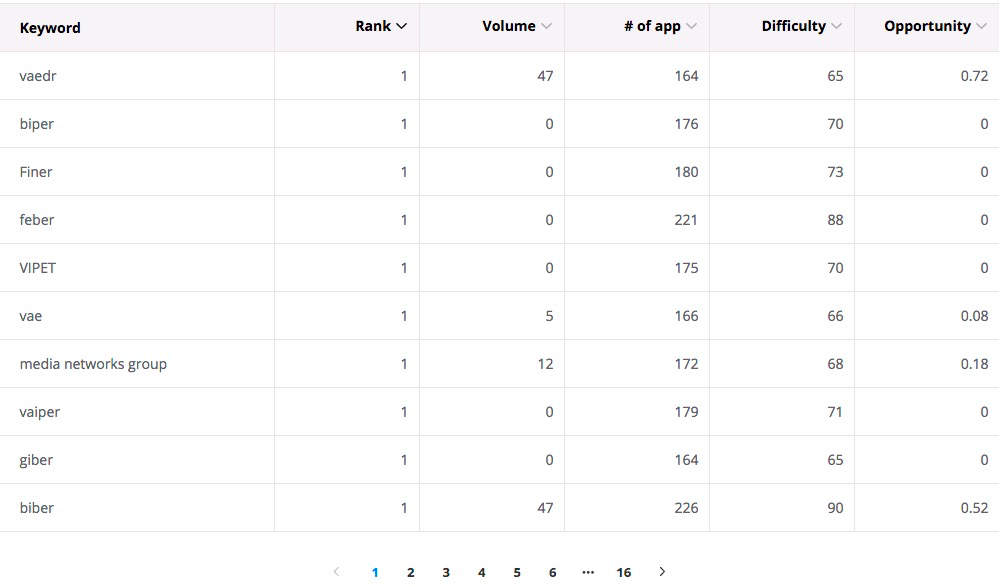 Keywords Searching makes ASO work easy
App market data will always be in dynamic changes. You need to understand the changes of certain keywords in the entire market in real-time. On AppSimilar, you can directly find keyword related data information through ASO function.
Start your AppStore keyword monitoring
As of now, I am very excited to receive feedback from App ASOer, saying that I regret finding this App analysis tool so late. This tool helps you choose or abandon certain keywords, improve your App ranking, and of course, keywords from competitors. Is there any keyword plan adjustment? you need to understand immediately. Start your AppStore Keyword monitoring.